CHOOSING AN EXAM SET LIST
The three songs Rock & Pop candidates perform in the exam are worth 80% of the marks, so it's important to choose songs that demonstrate individual style and skills. How can you help your students pick a set list that does this whilst developing their musicianship? Here we explore the options available and provide ideas and things to think about when putting an exam set list together. Join our mailing list to be kept up to date on new resources and spotlight features.

On this page you'll find:
Choosing an exam set list: Advice and information on putting a great set list together including an article by examiner Nick Powlesland and a pdf handout.
Practising an exam set list: Resources to help with learning and practising the chosen songs.
After the exam: Choosing material for future performances.

CHOOSING AN EXAM SET LIST
Resources to help you choose a great exam set list.
WHAT MAKES A GREAT SET LIST?
"I have selected many pieces for syllabuses and, as well as those tunes you just know will be really popular with teachers and candidates, there are always surprises when it comes to favourite choices. But what influences our decisions as teachers and candidates when choosing a set list for exam purposes? Is it as simple as picking three accessible songs, or the three the candidate likes the most?" Trinity Rock & Pop Examiner Nick Powlesland shares his advice on putting an exam set list together.
PUTTING A ROCK & POP EXAM SET LIST TOGETHER
Explore the different set list options available to candidates and get ideas for putting an exam set list together in this new pdf resource.
LISTENING TO THE ARTIST'S ORIGINALS
As well as listening to the demo tracks that come with the Rock & Pop 2018 books, why not have a listen to the artist's original versions of the songs you're considering? We've pulled them all together in one place in our graded Spotify playlists. Follow our Spotify profile and playlists to easily find the playlists whenever you want to have a listen.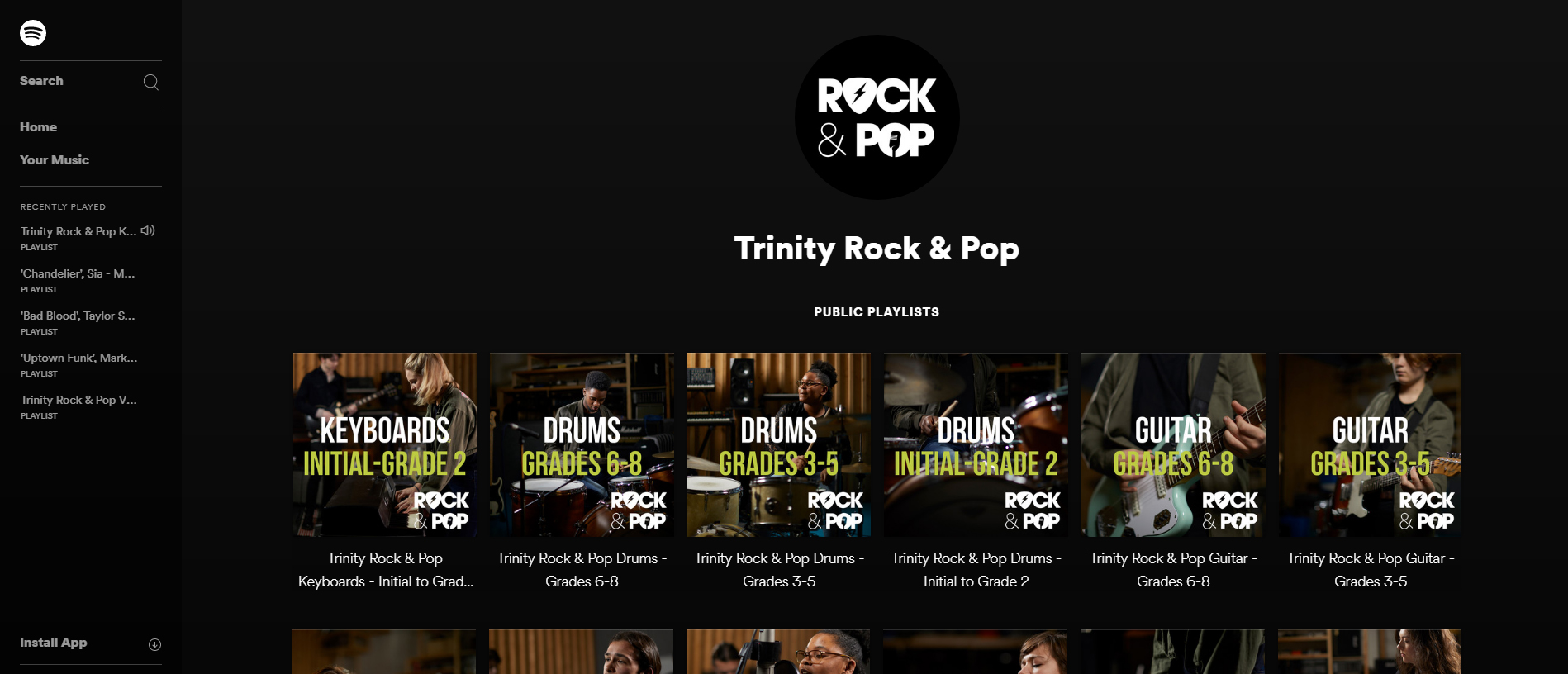 PRACTISING AN EXAM SET LIST
Once a set list has been chosen, the real hard work starts. Practising, mastering those key techniques and skills, defining the performance and learning about the context behind the song are all important in refinining an exam set list. The following resources, available on our Practice Room, will help students get exam ready.
PLAY TRINITY ROCK & POP APP
Our new Play Trinity Rock & Pop app is a great tool for practising and you can also use it to help you get warmed up before your exam. You can buy and download the songs you're performing in your exam straight into the app, which is available for iOS and Android phones and tablets. The mixing desk allows you to adjust the volume of each instrument or to mute specific instruments altogether and play or sing along. you can also do things like alter the tempo and pitch, add a count-in or click track, and even loop tricky sections to practise them over and over.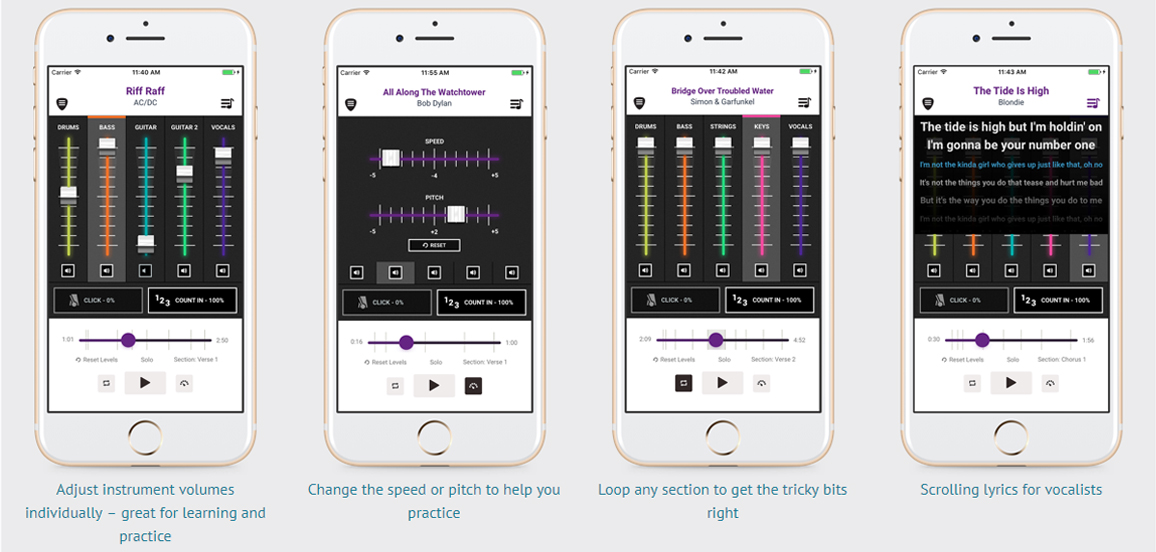 PERFORMANCES BY THE PROFESSIONALS
For performance ideas and inspiration, watch professional session musicians put their spin on a range of songs from the Rock & Pop 2018 syllabus.
Example video: 'Uptown Funk', Mark Ronson ft. Bruno Mars – Matt Brooks
TECHNICAL FOCUS DEMO VIDEOS
For help with mastering the skills and techniques in our technical focus songs, check out our demo videos.
Example video: Unison bends in 'The Riverboat Song' by Ocean Colour Scene
PRODUCER'S NOTES
Our Producer's Notes look at songs in the Rock & Pop 2018 syllabus, and include information about the song, artist, composition, recording and production, video and more. They're a great way to explore the context behind the song and delve deeper into related music. Songs include 'Uptown Funk' by Mark Ronson ft. Bruno Mars, 'Hold On' by Alabama Shakes, 'Octopus's Garden' by the Beatles and 'I Don't Like Mondays' by The Boomtown Rats.
Example Producer's Note: 'Rather Be', Clean Bandit ft. Jess Glynne.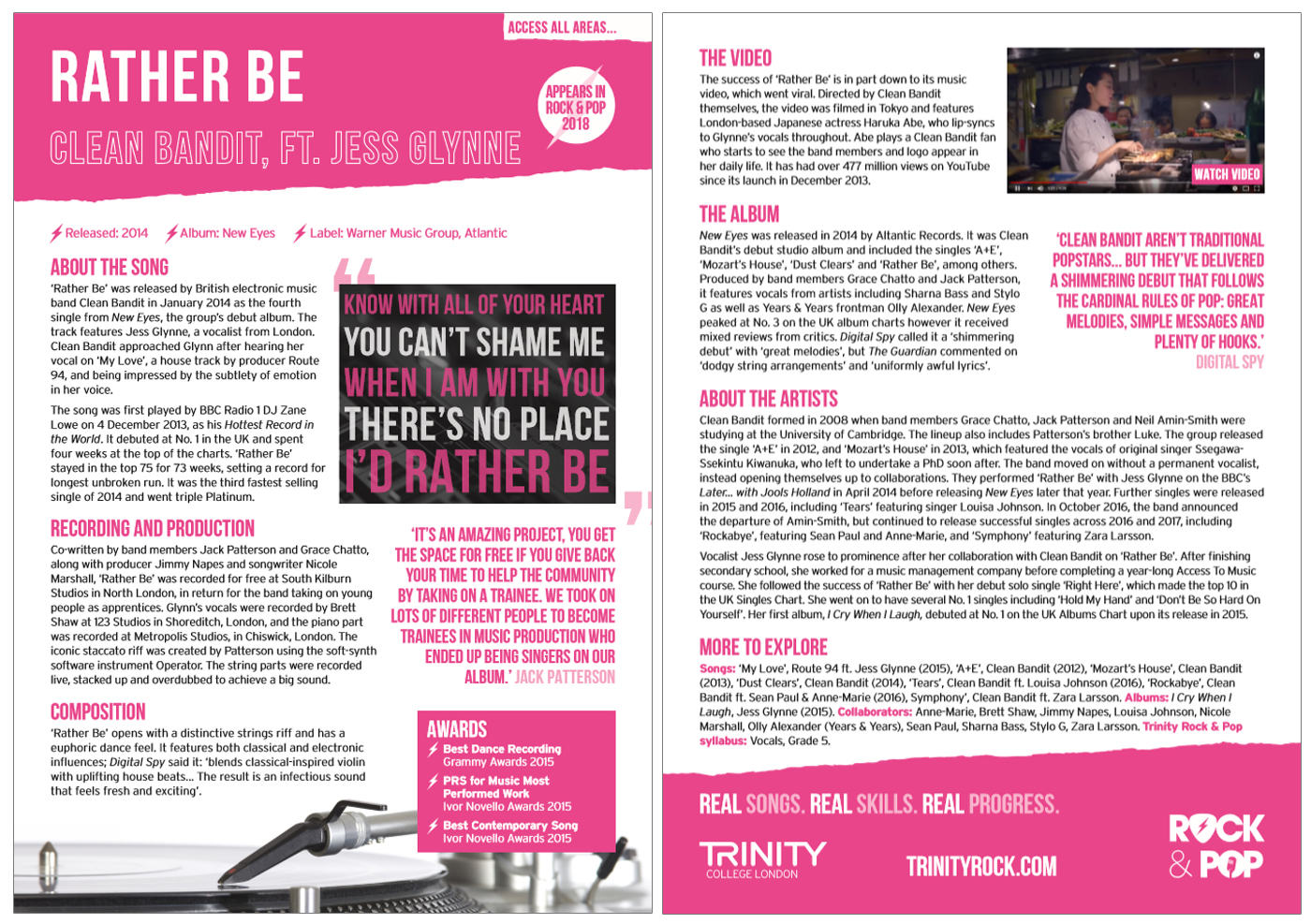 CHOOSING MATERIAL FOR FUTURE PERFORMANCES
Choosing the type of songs that reflect a musician or band's own individual style continues to be important as they get out into the world of gigging. We asked professional session musicians Talia Cohen and Will Franden about how to choose material in this Pro Skills video. Hear what they had to say about finding music that inspires and challenges, and how to keep improving, including considering playing in a function band to hone your skills.
INTRODUCING THE ROCK & POP 2018 SYLLABUS
Our Rock & Pop exams for bass, drums, guitar, keyboards and vocals reflect the way musicians want to learn. Perform an exam set list that showcases your unique musical style and skills, and get the opportunity to gain a valuable, internationally recognised qualification.

REAL SONGS: Teach your students to play the music they love, or introduce them to new genres, with our huge range of hit songs spanning all contemporary styles.
REAL SKILLS: Help your students develop the improvisation and playback session skills that professional musicians need.
REAL PROGRESS: Encourage your students to achieve their goals with an externally regulated and internationally recognised qualification.