WHERE ROCK & POP HAS TAKEN ME: JOBE HART, DRUMMER AND WEST END ACTOR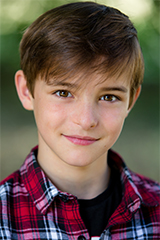 Jobe Hart, from London, is 11 years old and is currently working towards his Grade 8 Rock & Pop Drums exam with his teacher Gaz Siggins. He recently starred as Billy the Stylist in the West End production of 'School of Rock'. We asked Jobe to tell us a bit about his experience of playing the drums and how this helped him on stage.
What advice would you give someone thinking about learning to play the drums?
Make sure the drum kit is the right size. Start by doing simple things but always challenge yourself. You'll be amazed at how great you sound!
What advice would you give someone thinking about taking a Trinity Rock & Pop exam?
Do it! Relax and enjoy but always make sure you are ready! Try and practice every day if you can. Don't worry about the examiners - they're really nice!
Follow Jobe as he takes his Rock & Pop Grade 6 Drums exam, by watching his (and his brother Felix's) GoPro video.
What skills have you learnt through playing the drums and taking exams?
My confidence has grown by facing my fears of playing in front of an examiner. Drumming has also helped my rhythm and co-ordination in sport, especially tennis, squash and gymnastics which are my favourites.
Would you recommend learning to play a musical instrument to others?
Yes! I think learning to play an instrument can be such a great hobby. It's so great when you learn to play a song you really like. Because of drumming I am now part of a band and we have just finished 'Sweet Child O' Mine' and it sounds pretty good!
Can you tell us a bit about your 'School of Rock' experience?
I first auditioned to be the drummer Freddy but in the end played the part of Billy the Stylist who I think is really funny and I recommend you watch the show because it's great! My mum saw the open auditions and my sister is always on the stage and encouraging me to sing and dance and I thought why not give it a try? My dad always says we should try new things just for the experience!
How do you think learning to play the drums helped you with your 'School of Rock' role?
Playing the drums and taking Rock & Pop exams gave me confidence to perform in front of lots of people - especially strangers. It also improves your discipline because it teaches you to keep practising until you get it right. If I did not play the drums I would have never auditioned in the first place. I would say that doing Rock & Pop has definitely improved my sense of rhythm and brought out my inner rock!
What advice would you give to anyone looking to get into musical theatre?
Practice hard, and when you act, believe you are the character and think how they would act.
What's coming up next on the horizon for you?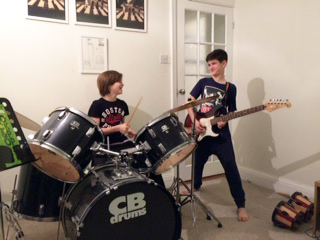 I am going to keep learning the drums because I find it so much fun and there is always more you can do and great songs you can play. I have set up a school band with my brother who plays guitar. I really enjoying being part of a band and am also auditioning for another West End show.
Do you have any musical heroes?
My biggest musical hero is my drum teacher, Gaz. He is really encouraging and makes me feel like I can achieve anything, and also he is an amazing musician.