MEET THE MUSICIANS: BRENDAN REILLY, VOCALS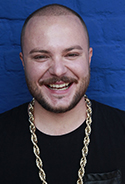 Earlier this year professional vocalist Brendan Reilly helped us showcase some of the songs on our new Vocals 2018 syllabus. Brendan is a London-based American singer-songwriter who, in addition to releasing is his own independent material over the years, has toured the world with artists including Basement Jaxx, Disclosure, and Sam Sparro. Brendan took some time out of his busy schedule to tell us about his career highlights and give advice for succeeding in the industry.
In your career to date, who have you played with and where have you played?
I have had the pleasure of performing with artists such as Disclosure, Quincy Jones, and Basement Jaxx all around the world at iconic venues such as Madison Square Garden, the Royal Albert Hall, and the Sydney Opera House, and the world's biggest festivals, such as Glastonbury, Coachella, and Fuji Rock.
What's been your career highlight as a vocalist?
I have been singing professionally since I was 10 years old, and I have been lucky enough to have a lot of highlights; but I will never forget the excitement the first time I was on a big stage, the lights came up, and I saw the crowd in the theatre; or the first time I played a big arena and felt the love of 14,000 people; the first time I played a big festival and looked out over 80,000 people and felt the roar of the crowd; and the first time I was on a #1 album and a Grammy nominated album!
What do you love most about what you do?
We musicians are very lucky. We get to have fun with our friends and make people's lives better for a living! What's not to love?
What made you want to be a singer?
I come from a family of musicians and I was inspired by all the music around me.
How did you learn to sing?
I learned how to sing by singing in church, at school, and learning to play instruments and read music at a young age. I also started working as a musician at a very young age, and the one amazing thing about music and performing is that you never stop learning!
What advice would you give someone starting out in the industry?
The most important things to keep in mind as you embark on a career in the music industry are to learn and hone your craft to the best of your ability; remember why you fell in love with music; and stay humble! Music is not a competition.
What do you think is the #1 skill needed by professional vocalists?
The #1 skill needed by vocalists is musicality. A well-trained musician with a good ear and versatility can play in any style and make it sound good!
Who are your musical heroes and what would your dream collaboration be?
My musical heroes include Miles Davis, Marvin Gaye, Joni Mitchell, Chaka Khan, Stevie Wonder... the list goes on and on. I find with collaborations, it's all about what you bring to the table and your chemistry with who you are collaborating with.
What are you currently working on?
I'm currently touring the world with Pete Tong & The Heritage Orchestra among many other projects.
Watch Brendan perform versions of some of the songs on our new Vocals syllabus and hear why he thinks they're such great tracks to sing in our Vocals 2018 Showcase. You can also watch full-length versions of the songs in our Vocals 2018 Sessions
Find out more about Brendan:
brendan-reilly.com
www.facebook.com/brendanreillymusic
twitter.com/brendanreilly
www.instagram.com/brenpix
MEET MORE MUSICIANS
Charlotte Lubbock, Vocals
David Kyle Payne, Bass
Ellen O'Reilly, Bass
Matt Brooks, Drums
David Dyson, Drums
Luke Higgins, Guitar
Rosa Ullmann, Keyboards
Aidan Glover, Keyboards