MY TOP TIPS FOR TEACHING ROCK AND POP MUSIC: JAMES SEDGE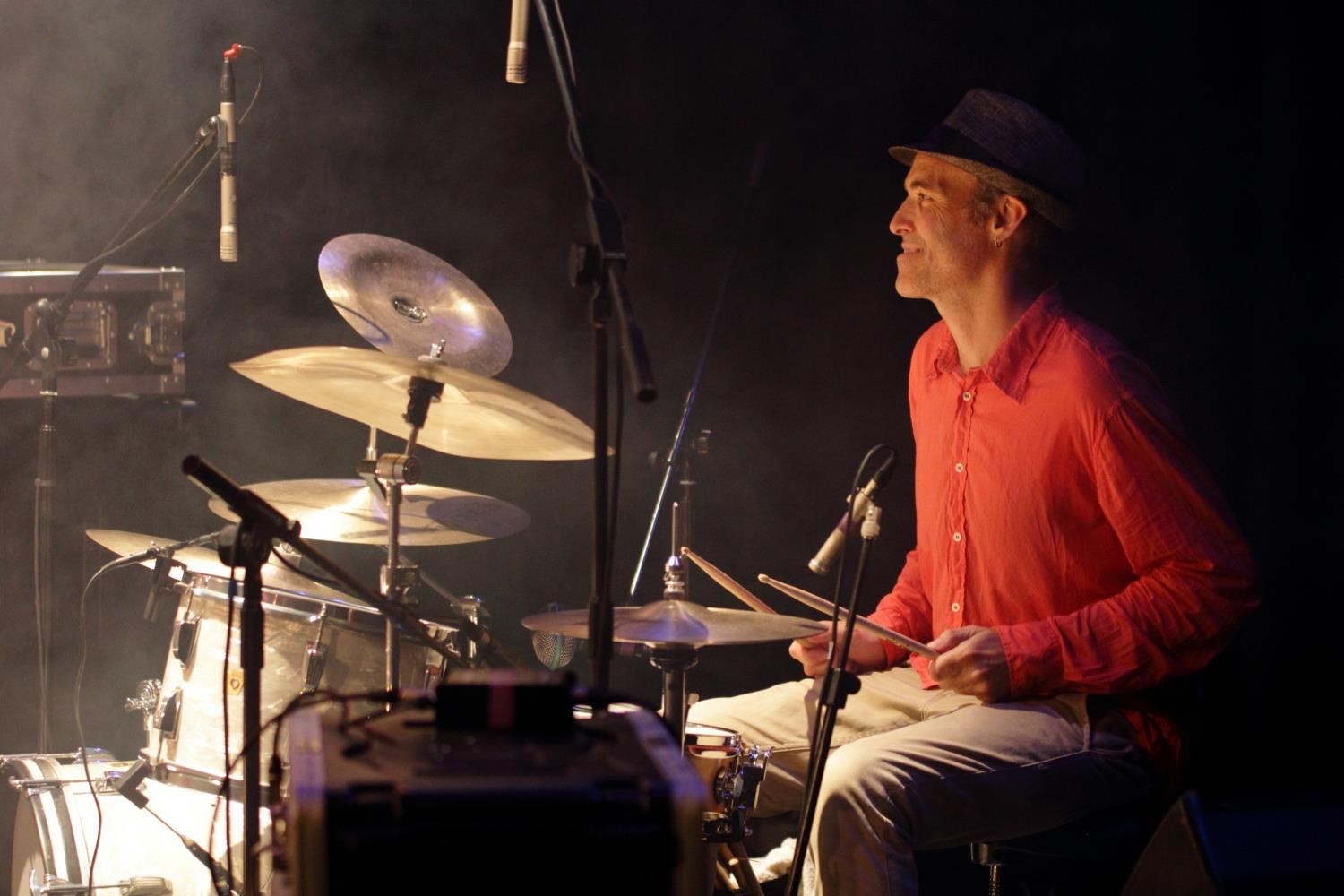 I am the co-founder/director of MusicStation, a private music school based in Tonbridge, Kent that specialises in the teaching of rock and pop instruments. My musical background is playing drums professionally since the 1990s in original bands, session work and West End shows. I am currently playing for Matt Berry and Cobalt Capel. Alongside the playing I have always taught drums. I started to teach in an FE college in 1999 and soon went on to co-write and teach on a degree 'Popular Music Performance' that ran very successfully until 2013.
Contextualise
All great rock and pop music comes with an important background or message. It could be deeply personal for the artist (Paul Weller 'You do Something to Me'), political (The Specials 'Ghost Town'), iconic (Jimi Hendrix 'Fire'), iconoclastic (the Sex Pistols 'Anarchy in the UK') etc. All these factors help us as musicians to connect with the music and to give a performance with depth. I find that students are fascinated by the history behind the songs, so a study of the lyrics for all instrumentalists will help to give an impassioned performance.
Learn about the original musicians' other songs
For graded exams, I don't think you can get enough information about the playing style(s) through learning just one song. I make Spotify playlists for my students to direct them to the songs that I consider to be the best examples. I don't recommend YouTube outside of my lessons for younger students because of the sometimes idiotic, profane comments under the videos. Spotify is much safer (and also free).
For example, if I was teaching guitar rhythm playing in a disco/ funk style, Nile Rodgers would be my first call. My playlist for Nile Rodgers would contain his work with Chic, Sister Sledge, David Bowie, Madonna, Daft Punk etc. I look forward to using the new Rock & Pop Spotify playlists to access the original versions of the exam songs.
Encourage dedicated practice times
It doesn't work if students only practise when they feel like it! They need to dedicate regular time slots that are strictly kept to for each day of the week. I get my students to analyse their commitments to find any spare time they might have in at least 15 minute blocks each day. I then provide them with a week calendar page to input the times they think they can commit to regularly. This goes in the front of their Practice Diary.
Set up a Practice Diary
It is often due to a lack of regular directed practice that students struggle to progress…
The filling in of a Practice Diary is an excellent way for the teacher and the student/parents to have a weekly dialogue about practice. My teachers write in the tasks during the lessons and the students (or their parents) write in how long each day they have spent on each task. Only 15 minutes a day adds up to over an hour per week - this is ideal for young/ beginner students.
They really enjoy running into the lessons with their Practice Diaries open to show how much they have done. This creates a positive peer pressure to practice each day amongst my students.
Identify song teaching points
We all know how dispiriting it can be to be stuck on a song for too long - the student is not ready to take the exam but is already tired of the song…By breaking the song down into its techniques/parts and working on them before starting the song, the student then only has to work on learning the arrangement. More emphasis can then be placed on groove, touch, dynamics connected to the song. This method really helps with the following tip.
Encourage students to memorise
To get a deeper connection with the music I think it is helpful to memorise the songs before a performance or exam. An over-reliance on reading the charts can result in a stilted, hesitant performance. The instrumentalist/ vocalist should feel as though they are in charge of the arrangement in order to be able to successfully set up chord changes, section changes, dynamic shifts etc.
I get my students to play the whole song with their eyes shut - it can be quite a powerful experience for some students to fully engage with the song from memory.
I sometimes cite actors initially learning their parts with scripts, and then ALWAYS performing from memory. It would be quite ridiculous for them to do otherwise because there would be no connection with the character or the audience. Shouldn't it be the same for contemporary musicians?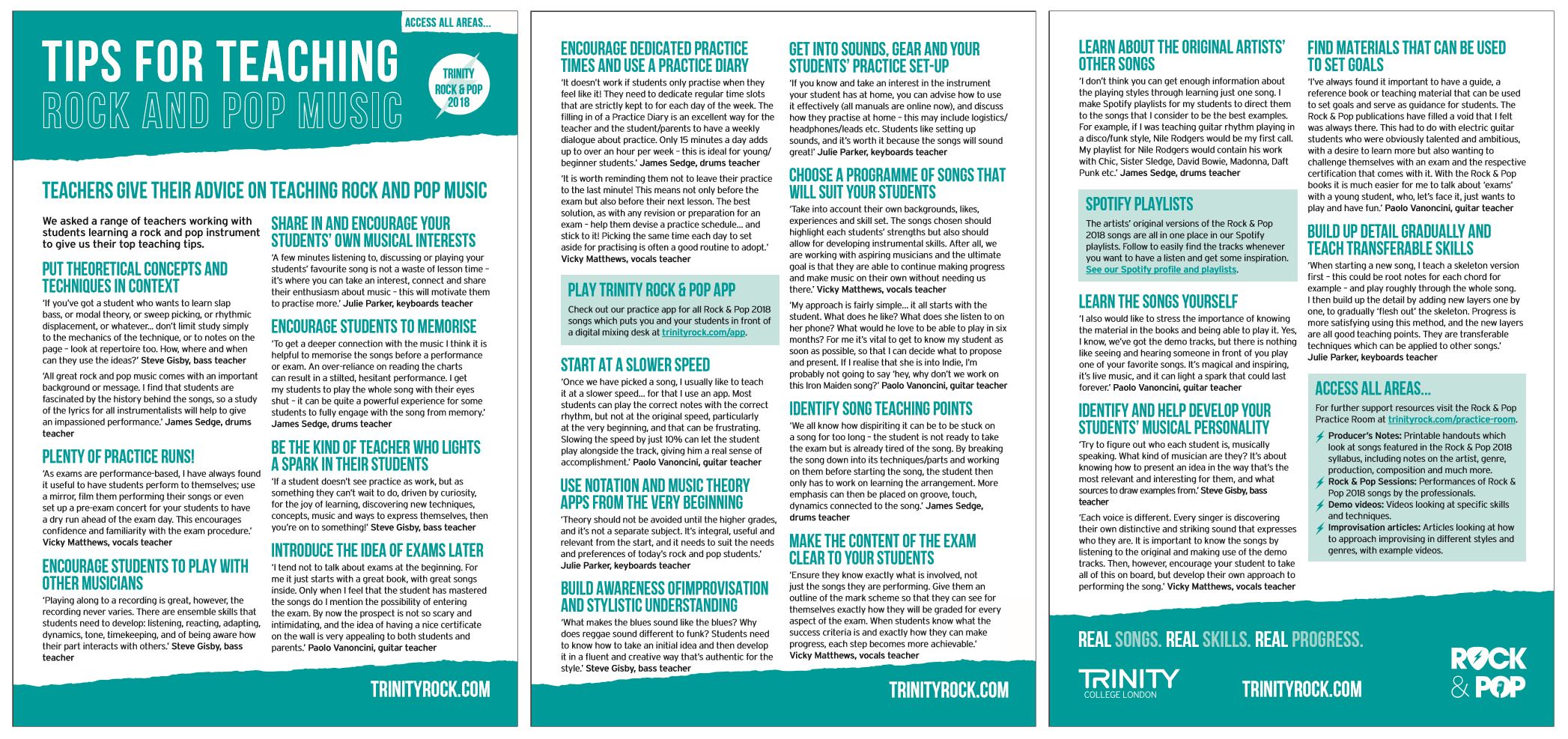 READ MORE TIPS FOR TEACHING ROCK AND POP MUSIC
My top tips for teaching rock and pop music: Steve Gisby
My top tips for teaching rock and pop music: Julie Parker
My top tips for teaching rock and pop music: Vicky Matthews
My top tips for teaching rock and pop music: Paolo Vanoncini