MEET THE MUSICIANS: AIDAN GLOVER, KEYBOARDS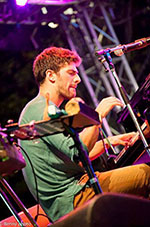 Aidan Glover is a sought-after accompanist on the London music scene and has worked with artists including Joss Stone, Michael Kiwanuka, Celine Dion and Kimberley Walsh among many others. He has been demonstrating the skills and techniques assessed in our Keyboards syllabus' technical focus songs. We caught up with him and asked him some questions to find out more about the man behind the keys.
In your career to date, who have you performed with and what sorts of venues have you played at?
Rae Morris, Gorgon City, The Bays, Joss Stone, Kwabs, Michael Kiwanuka, Jordan Max, Mullally, Gabriella Cilmi.

A lot of festivals (one season I did over 30)… the most famous is probably Glastonbury.
Can you tell us about any particular career highlights?
I toured for two years with Afro Jazz artist, Carmen Souza. The music was great, as were the venues and festivals. Loads of good pianos too- I was spoilt with Steinways, Faziolis and Bösendorfers.

I also remember the first time playing at Ronnie Scott's being very special.
What do you love most about what you do?
Meeting wonderful people and playing music with all sorts of different experiences.
What inspired you to learn the drums?
Listening to rock, soul and jazz records as a teenager and trying things out on the piano (I had a few classical grades already).
Did you have lessons or did you teach yourself?
A mixture. I tried a lot of things by myself, but I had input from a fair few jazz piano teachers along the way. I also did a jazz degree at Trinity College of Music.
What was your first big break?
I covered for a good friend on Gabriella Cilmi's gig. I was pretty terrified, but made sure I learnt everything and went above and beyond with putting some decent sounds together. From there I was asked to do some other bits and got in with some busy musical directors.
What advice would you give to someone starting out in the industry?
Be yourself, be on time and know your place in a band.
What do you think is the #1 skill needed by professional keyboardists?
Be nice and as professional as possible.
Who are your musical heroes?
Stevie Wonder, Bill Evans, Billy Preston, Sam Cooke, Marvin Gaye, Ray Charles, Sly, Donny Hathaway.
What are you currently working on?
I have an analogue production/recording studio, Talbot Studios, and am writing and producing with a number of different artists.
Watch Aidan demo some of the skills and techniques assessed in our Keyboards syllabus in his Technical Focus Demo Videos
Find out more about Aidan:

aidanglovermusic.com
twitter.com/AidanGloverKeys
MEET MORE MUSICIANS
Rosa Ullmann, Keyboards
David Kyle Payne, Bass
Ellen O'Reilly, Bass
Matt Brooks, Drums
David Dyson, Drums
Luke Higgins, Guitar
Brendan Reilly, Vocals
Charlotte Lubbock, Vocals