PRODUCER'S NOTES - 'CHANDELIER', SIA
"Basically, I put this out to get out of my publishing deal. I was planning to be a pop songwriter for other artists." - Sia

We're bringing you a range of Producer's Notes to help you get the most out of the Rock & Pop 2018 syllabus. Each looks at one of the iconic songs featured in the syllabus and provides you with a host of useful information, looking at the writing, composition and production of the song as well as the song's commercial aims and successes. Did you know that Sia only released 1000 Forms of Fear, the album 'Chandelier' featured on, as a way to fulfil her contractual obligations so she could focus on writing songs for other artists?

Find out more about the track in our Producer's Notes for 'Chandelier' by Sia.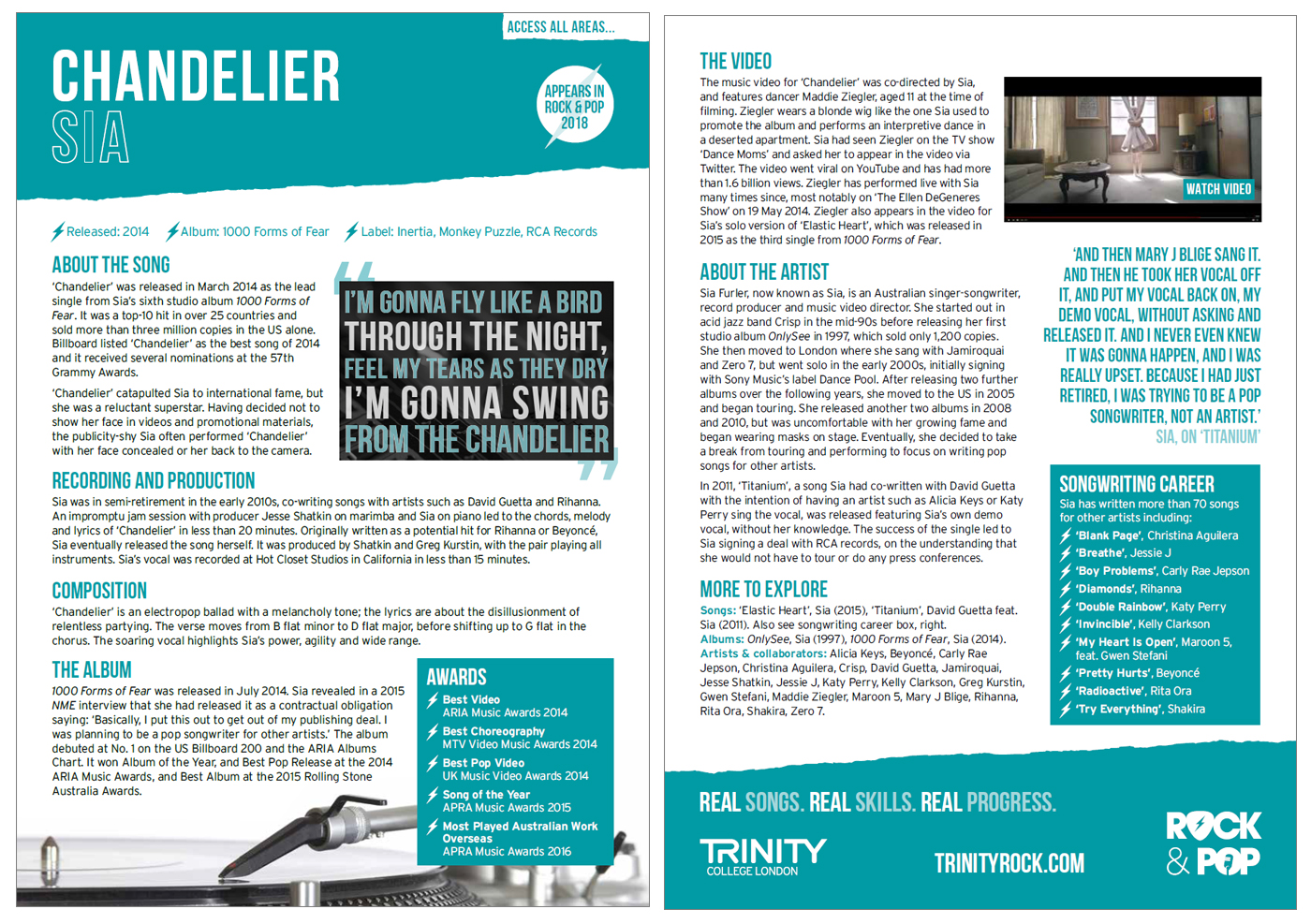 Why 'Chandelier'?
The song was a huge hit, bringing Sia widespread recognition as a world-leading pop writer and performer. It was a top-ten hit in over 25 countries and was named the best song of 2014 by Billboard.
An epic pop anthem and a vocal tour de force, Rock & Pop 2018 contributor Chris Walters says 'Chandelier' was an obvious choice for the Vocals syllabus. 'Vocalists will need to be able to access a mixed palette of belt and high head voice, while the contrasting opening section requires clear diction and accurate rhythm.'
'Chandelier' also appears on the Keyboards syllabus. The reason for that, Chris says, is that 'the keys arrangement features tricky arpeggiated chords, calling for dexterity, as well as left-hand octave leaps that appear in increasingly complex rhythmic patterns as the song progresses.'
EXPLORE ON SPOTIFY
We've put together a Spotify playlist exploring the track and other related songs. If you don't already have a Spotify account, it's free to set one up. Follow us and our playlists on Spotify to easily find them again.
See 'Royals' Producer's Notes (NEW)
See 'With a Little Help From My Friends' Producer's Notes (NEW)
See 'Bad Blood' Producer's Notes
See 'Life On Mars?' Producer's Notes
See 'Smells Like Teen Spirit' Producer's Notes
See 'Superstition' Producer's Notes
See 'Uptown Funk' Producer's Notes
See 'Rather Be' Producer's Notes (NEW)
See 'Hold On' Producer's Notes (NEW)
See 'I Don't Like Mondays' Producer's Notes (NEW)
See 'Octopus's Garden' Producer's Notes (NEW)