PRODUCER'S NOTES: 'HOLD ON', ALABAMA SHAKES
'The kind of natural songwriting that seems to contain the entire history of southern music within its staves' – The Independent

The Rock & Pop song lists celebrate the very best music from the last 60 years, allowing musicians to perform the songs they know and love, and to discover plenty of new tracks along the way.

Our Producer's Notes explore a number of these songs, giving you lots of context to help inform how they could be performed. The notes highlight background information on a range of aspects including the songs' composition, recording and production, the videos that accompany them, and information about the artist and related songs.

These Producer's Notes take a look at Alabama Shakes' 'Hold On', released in 2012: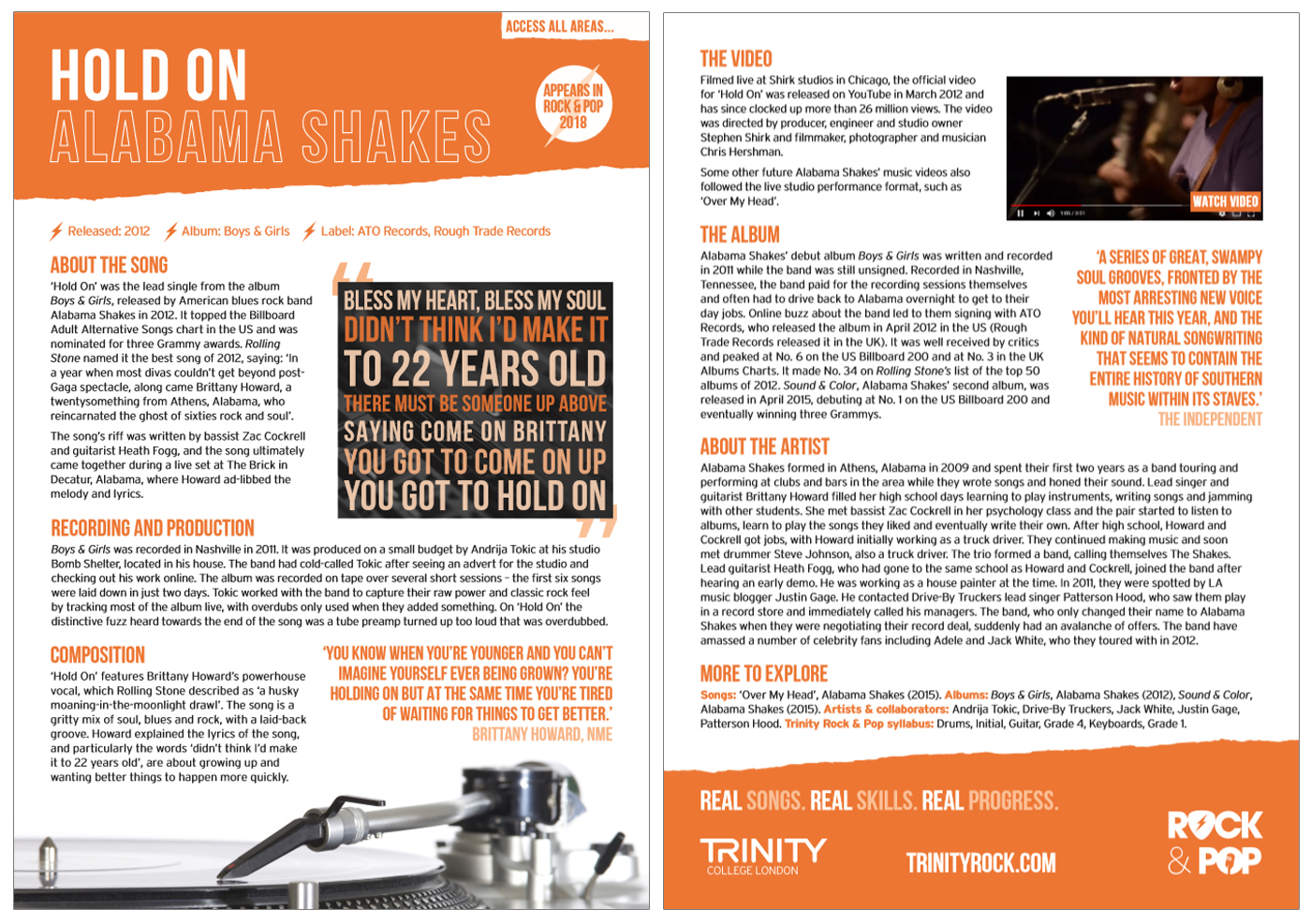 Why 'Hold On'?
Nominated for three Grammy awards, it achieved solid critical acclaim, with Rolling Stone naming it the best song of 2012: 'In a year when most divas couldn't get beyond post-Gaga spectacle, along came Brittany Howard…who reincarnated the ghost of sixties rock and soul'.
The song features on three of the Rock & Pop 2018 syllabuses - Initial Drums, Grade 4 Guitar, and Grade 1 Keyboards – and provides plenty of scope for players of each instrument to develop their skills. 'Drummers should give the song lots of energy, while maintaining the bass-and-snare pattern and keeping the hi-hat quavers even and steady. Guitarists, meanwhile, need to master the semiquaver riff, hammer-ons and bends, as well as achieving the laid-back groove needed for the song's blues-rock feel. And keyboardists need to employ a careful, detached style when playing the repeated quavers, as well as observing articulation markings and rests' – Andrew Hatt, Qualifications Development Manager
EXPLORE ON SPOTIFY
We've put together a Spotify playlist exploring the track and other related songs. If you don't already have a Spotify account, it's free to set one up. Follow us and our playlists on Spotify to easily find them again.
See 'Royals' Producer's Notes (NEW)
See 'With a Little Help From My Friends' Producer's Notes (NEW)
See 'Bad Blood' Producer's Notes
See 'Chandelier' Producer's Notes
See 'Life On Mars?' Producer's Notes
See 'Smells Like Teen Spirit' Producer's Notes
See 'Superstition' Producer's Notes
See 'Uptown Funk' Producer's Notes
See 'Rather Be' Producer's Notes (NEW)
See 'I Don't Like Mondays' Producer's Notes (NEW)
See 'Octopus's Garden' Producer's Notes (NEW)