PRODUCER'S NOTES: 'I DON'T LIKE MONDAYS', THE BOOMTOWN RATS
'And he can see no reason, 'cause there are no reasons.'

Knowing about the background, rationale, composition, and production of a song can really help improve a musicians' learning and performance of it. Our Producer's Notes, created for a range of songs across the Rock & Pop syllabuses, provide a one-stop resource with lots of interesting facts about why and how they came about.

In these Producer's Notes we explore The Boomtown Rats' 'I Don't Like Mondays', giving you insights into the meaning behind the song as well as details about the song's composition, recording and production.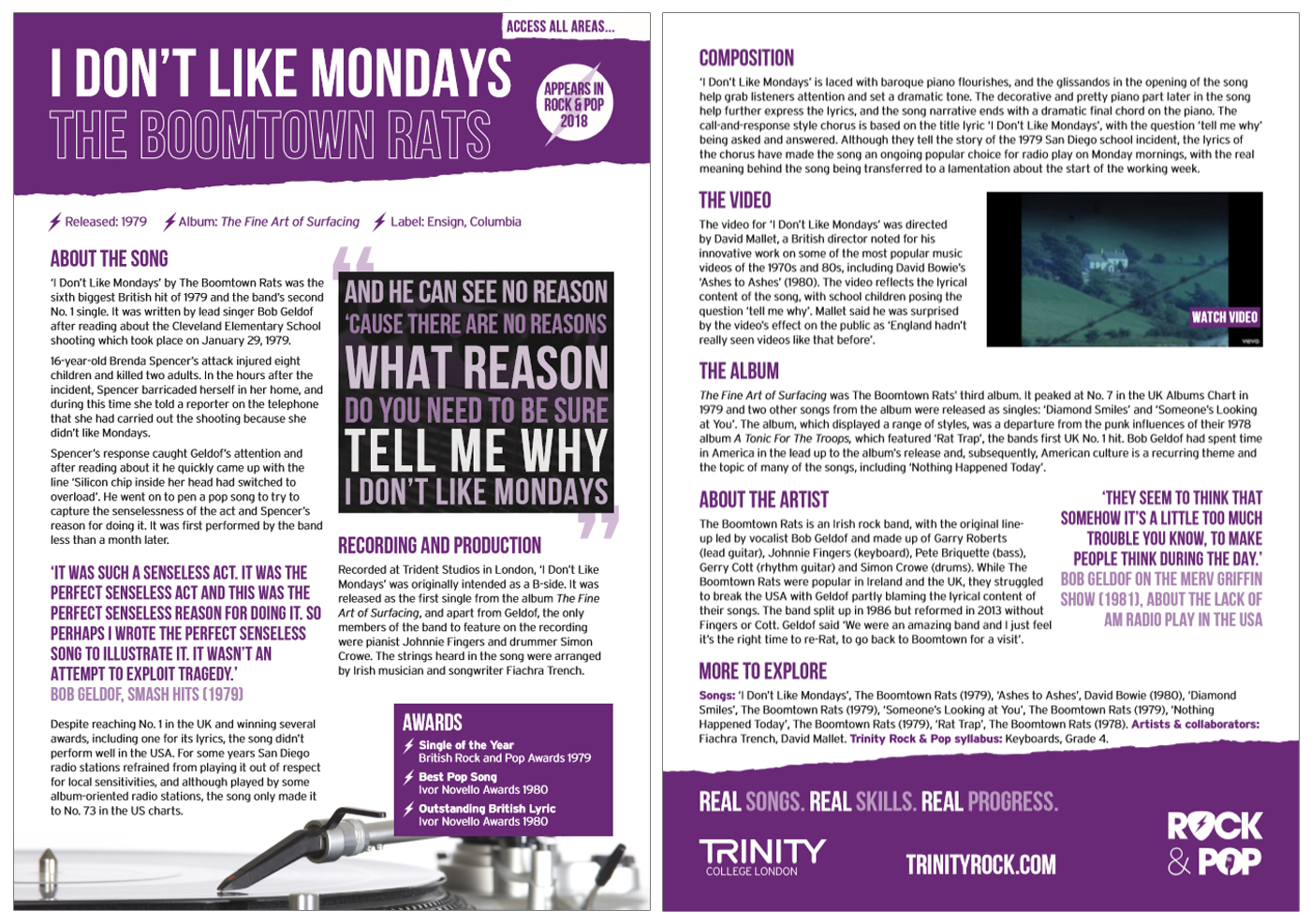 Why 'I Don't Like Mondays'?
The song was successful both commercially and critically in the UK, topping the charts and winning several awards, including for its lyrics.
It features on the Rock & Pop Keyboards syllabus at Grade 4 and, as Andrew Hatt, Trinity's Qualifications Development Manager, explains, was chosen as it allows keyboardists to demonstrate an exciting variety of skills. 'Keyboardists have lots to play with here, including the dramatic opening glissandos, dropping the dynamic in order to maximise the effect of the crescendos, and the contrast between the decorative style of the middle section and the repeated staccato chords'.
EXPLORE ON SPOTIFY
We've put together a Spotify playlist exploring the track and other related songs. If you don't already have a Spotify account, it's free to set one up. Follow us and our playlists on Spotify to easily find them again.
See 'Royals' Producer's Notes (NEW)
See 'With a Little Help From My Friends' Producer's Notes (NEW)
See 'Bad Blood' Producer's Notes
See 'Chandelier' Producer's Notes
See 'Life On Mars?' Producer's Notes
See 'Smells Like Teen Spirit' Producer's Notes
See 'Superstition' Producer's Notes
See 'Uptown Funk' Producer's Notes
See 'Rather Be' Producer's Notes (NEW)
See 'Hold On' Producer's Notes (NEW)
See 'Octopus's Garden' Producer's Notes (NEW)