PRODUCER'S NOTES: 'OCTOPUS'S GARDEN', THE BEATLES
'At the time, I just wanted to be under the sea, too' – Ringo Starr

Our Producer's Notes explore the background of a range of the iconic songs featuring on our Rock & Pop song lists, giving you some – perhaps previously unknown – insights into the songs and why and how they came about.

Here we're taking a look at one of the seven Beatles songs to feature on our song lists, Octopus's Garden, giving you lots of information about the song's history, recording and production. Did you know, for example, that it took 32 takes before The Beatles were happy with it?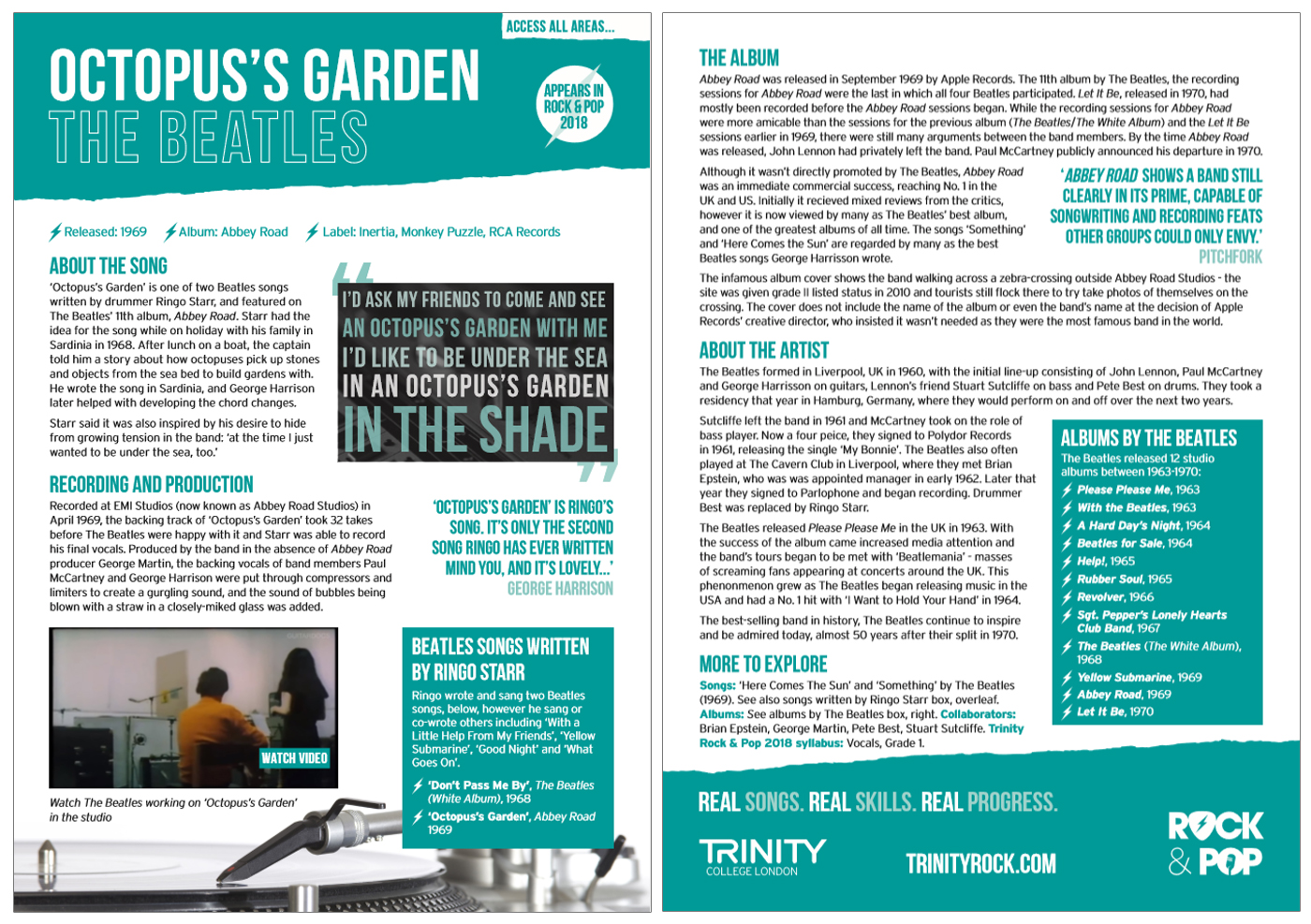 Why 'Octopus's Garden'?
The song features at Grade 1 of our Vocals syllabus, and Andrew Hatt, Trinity's Qualifications Development Manager explains that it was picked partly because of 'the accuracy needed when singing the phrases repeated a third lower, which help give the song its iconic, catchy style. Singers also need to show that they can control their voice over the octave range that this song spans'.
EXPLORE ON SPOTIFY
We've put together a Spotify playlist exploring the track and other related songs. If you don't already have a Spotify account, it's free to set one up. Follow us and our playlists on Spotify to easily find them again.
See 'Royals' Producer's Notes (NEW)
See 'With a Little Help From My Friends' Producer's Notes (NEW)
See 'Bad Blood' Producer's Notes
See 'Chandelier' Producer's Notes
See 'Life On Mars?' Producer's Notes
See 'Smells Like Teen Spirit' Producer's Notes
See 'Superstition' Producer's Notes
See 'Uptown Funk' Producer's Notes
See 'Rather Be' Producer's Notes (NEW)
See 'Hold On' Producer's Notes (NEW)
See 'I Don't Like Mondays' Producer's Notes (NEW)