PRODUCER'S NOTES: 'RATHER BE', CLEAN BANDIT FT. JESS GLYNNE
'Clean bandit aren't traditional popstars... But they've delivered a shimmering debut that follows the cardinal rules of pop: great melodies, simple messages and plenty of hooks' – Digital Spy

As well as featuring classic and iconic rock and pop songs that are internationally known and loved, the Rock & Pop song lists also aim to introduce you to newer songs that you might not be as familiar with.

To help familiarise you with some of these more recent hits, we've compiled a series of Producer's Notes – providing you with background information on things like the composition, recording and production of the song and its album, as well as looking at its video and related artists.

Take a look at the Producer's Notes for 'Rather Be' by Clean Bandit, ft. Jess Glynne: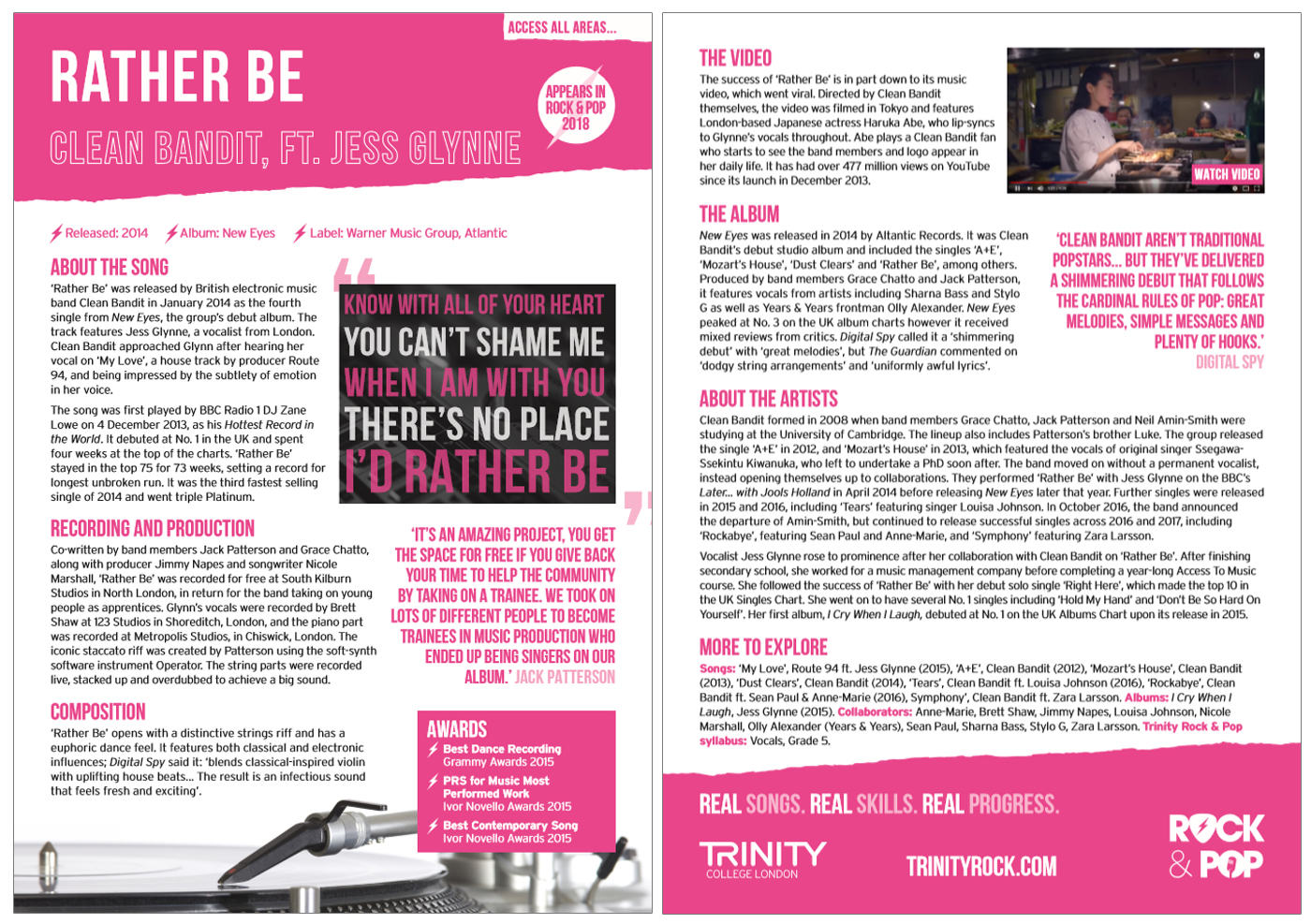 Why 'Rather Be'?
The song achieved instant success, spending four weeks at No.1 in the UK and staying in the top 75 for 73 weeks, setting the record for the longest unbroken run.
It features at Grade 5 of our Vocals syllabus, and, with no clear beat until bar 17, it gives singers a great opportunity to master their timing.
'A lesson in how to write and perform songs that seemingly have instant and universal appeal'
'We included this in the syllabus as it presents singers with lots of exciting challenges. As well as timing, vocalists also need to demonstrate their range, maintaining an equally relaxed delivery whether at the lower end of their chest voice or when they flip up to the top of their chest voice for those occasional high notes.' – Andrew Hatt, Qualifications Development Manager
EXPLORE ON SPOTIFY
We've put together a Spotify playlist exploring the track and other related songs. If you don't already have a Spotify account, it's free to set one up. Follow us and our playlists on Spotify to easily find them again.
See 'Royals' Producer's Notes (NEW)
See 'With a Little Help From My Friends' Producer's Notes (NEW)
See 'Bad Blood' Producer's Notes
See 'Chandelier' Producer's Notes
See 'Life On Mars?' Producer's Notes
See 'Smells Like Teen Spirit' Producer's Notes
See 'Superstition' Producer's Notes
See 'Uptown Funk' Producer's Notes
See 'Hold On' Producer's Notes (NEW)
See 'I Don't Like Mondays' Producer's Notes (NEW)
See 'Octopus's Garden' Producer's Notes (NEW)