PRODUCER'S NOTES - 'UPTOWN FUNK', MARK RONSON, FT. BRUNO MARS
To help you get the most out of your Rock & Pop experience we're bringing you a host of Producer's Notes on songs from the 2018 syllabus. With information on aspects such as the song's recording, its video and album, and the artist behind it, we're giving you the tools to delve into the song's history, its importance and its context – a great thing to do, you've told us, when learning rock and pop music.

'I like the fact we can open up the contextual side as well' – James Sedge, Drums Teacher

So, without further ado, we present Producer's Notes on 'Uptown Funk' by Mark Ronson ft. Bruno Mars.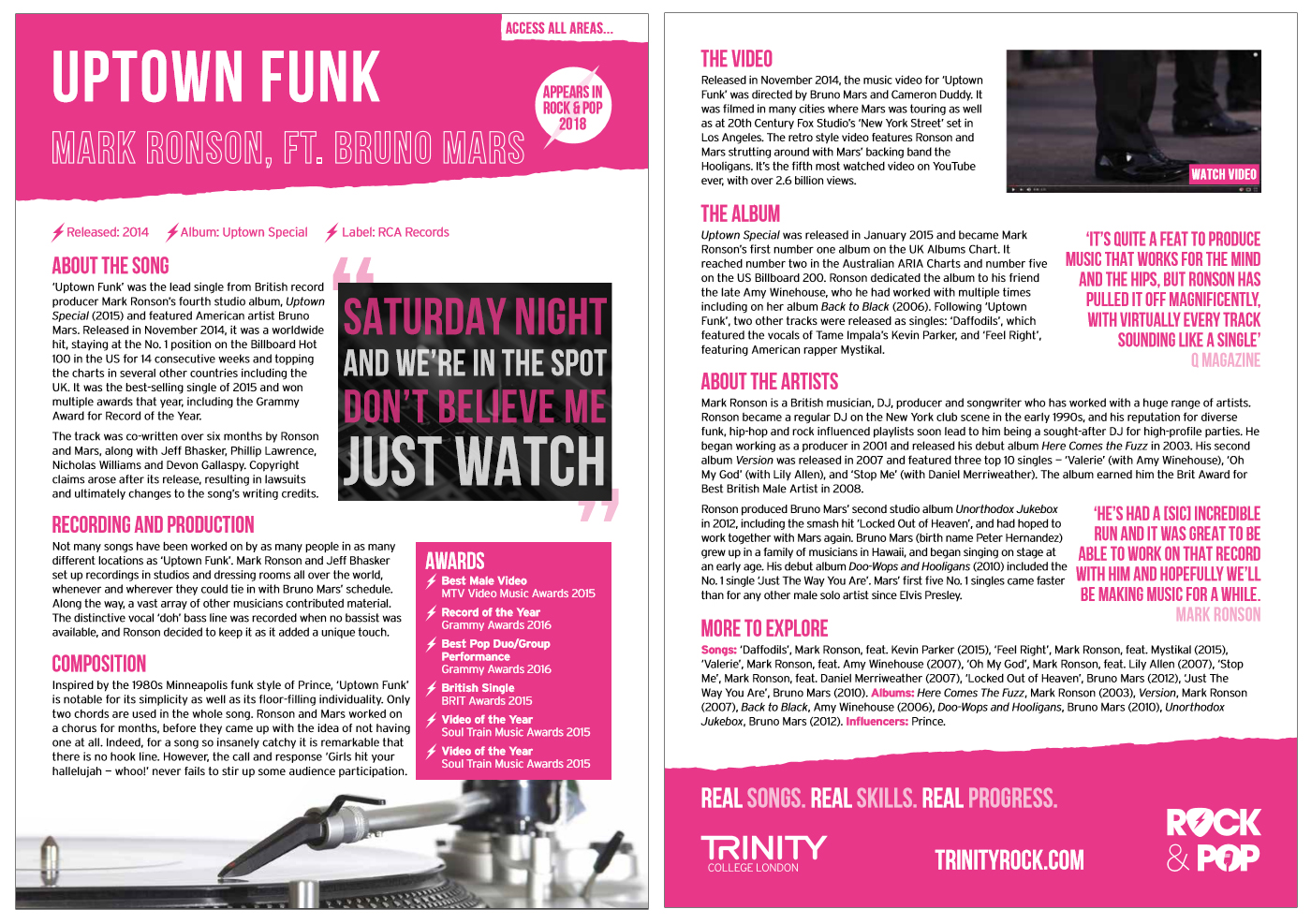 Why 'Uptown Funk'?
Cited by Billboard as the biggest hit of the 2010s, the song spent 14 consecutive weeks at No. 1 in the US, seven consecutive weeks at No.1 in the UK, and hit the top spot in many other countries including Australia, Canada, France, Ireland and New Zealand.
'Stylistic interpretation is important'
Appearing on the Vocals, Keyboards, and Drums syllabuses, it makes for a great song to learn as Chris Walters, Rock & Pop 2018 consultant, explains: 'Challenges for vocalists in 'Uptown Funk' include fast semiquavers, which need neat delivery and diction. Stylistic interpretation is also important, as the song contains both spoken and shouted notes, calling for confidence. Keys players might want to experiment with synth sounds in this song, while drummers will need to demonstrate tight ensemble with the backing track and the ability to play an evenly gradated crescendo in the build-up to the instrumental break-out section'.
EXPLORE ON SPOTIFY
We've put together a Spotify playlist exploring the track and other related songs. If you don't already have a Spotify account, it's free to set one up. Follow us and our playlists on Spotify to easily find them again.
See 'Royals' Producer's Notes (NEW)
See 'With a Little Help From My Friends' Producer's Notes (NEW)
See 'Bad Blood' Producer's Notes
See 'Chandelier' Producer's Notes
See 'Life On Mars?' Producer's Notes
See 'Smells Like Teen Spirit' Producer's Notes
See 'Superstition' Producer's Notes
See 'Rather Be' Producer's Notes (NEW)
See 'Hold On' Producer's Notes (NEW)
See 'I Don't Like Mondays' Producer's Notes (NEW)
See 'Octopus's Garden' Producer's Notes (NEW)